A Primer on Killabears (Part 3)
01/19/2023
Check out A Primer on Killabears (Part 4) here:
gm gm everyone, and happy Thursday! Today's edition of Proof of Update will be the 3rd installment in the Killabears Primer - if you missed the first two, check them out below!
Up until this point, we've covered everything from the origin of the Killabears team, the mint experience, the lore, the value to holders, the Killabit airdrop, to both currently released phases of staking! In this edition, I'd like to specifically dive into the different NFTs and items that have thus far been released in the Killabear ecosystem - and there are a LOT, as the team's number one focus is value to the holders.
The first NFT and asset in the Killabears ecosystem is obviously the original NFT, often referred to as the OG Killabears. To steal the blurb from Opensea:
KILLABEARS is a collection of 3333 thoughtfully designed, animated and randomly generated NFTs on the Ethereum Blockchain by Mexican artist Memo Angeles. KILLABEARS holders can participate in exclusive events, such as: NFT claims, raffles, giveaways and much, much more.
The big takeaways here, in my opinion, outside of the awesome artwork and effort the team put into the assets themselves, would be that there are only 3333 of them, and that they are the "keys to the kingdom" more or less.
First, the fact that there are only 3333 of these OG Killabears means the collection itself is substantially smaller than many other "bluechip" NFT projects - often a lot of these projects have 10,000 NFT collection sizes. While on its face that may not mean much, to those who have been around, that means that by even owning just a single Killabear, you own a significantly increased portion of the collection vs. other projects. If you're a big believer in the project, which I am, then that means you're able to get much more exposure, at much cheaper of a pricepoint relative to other collections currently.
Killabits
We went into Killabits in A Primer on Killabears (Part 2), but just as a reminder, you can check this thread out here which picks up just as the Killabits were airdropped to holders.
These Killabits were airdropped for free to holders of the OG Killabears, and they have already been woven into the storyline and staking process as an integral part of the ecosystem. In Phase 1 of staking, you need a Killabit to pair with your OG Killabear in order to complete the process. Similarly, in Phase 2, you also need to pair your OG Killabear with a Killabit - except this time, the Killabits can utilize weapons, aka Killagear!
Just remember:
Speaking of Killagear, users who complete Staking Phase 1 at the Kilton by staking an OG Killabear and a Killabit are rewarded with (at minimum), a piece of Killagear. As I mentioned in A Primer on Killabears (Part 2), these weapons can be used by Killabits in Staking Phase 2 to increase reward tiers:
The cool thing about this is you can equip that weapon to your Killabit, and when you stake both your Killabear and Killabit in the Killalabs, depending on the rarity of your weapon, you have a shot at higher tiers of rewards.

You can even combine certain weapons to move up in the reward tiers!
As you know by now - I work smarter, not harder. Here's the Opensea blurb on what Killapasses are:
Killacubs Mint Passes are your exclusive ticket to the upcoming Build-A-Cub Workshop in the KillaVerse! Each pass gives you access to build a Killacub in our upcoming collection - for FREE!

If you currently own a Killabear, you'll be able to use its traits to build your Killacub, and if you don't own one yet, don't worry! You'll be able to choose from a variety of additional traits to build your cub.
These Killapasses are obtainable in the bonus prize pool for Staking Phase 1, Staking Phase 2, or even as giveaways from the team themselves!
But obviously I left out something important that you're probably wondering - what's a Killacub? Fair question.
Killacubs
Killacubs are an upcoming drop from the Killabears team to all OG Killabear holders. As you saw above, if you hold a Killapass you'll also be able to mint them. But they are much more than that, as you'll get to customize them yourself based on the traits you hold via your OG Killabears, or even the Killatraits you picked up along the way. Once again, our dude @quirk_bear has THE thread that you want to check out for the information on why Killacubs are going to be such an amazing addition to the ecosystem.
Once again, from the Opensea page:
Behind the doors of an unmarked room deep inside Killalabs, a set of blueprints was discovered.

These blueprints include plans for a unique set of traits and attributes, however none of the traits appear to fit the measurements of any currently existing bear within the KillaVerse...
Killatraits are another asset in the Killabear ecosystem, but one with eyes on the future. Killatraits are going to be usable when it comes time to mint your own Killacub - you can use the traits you have either on your OG Killabears and/or via these passes to "build" your Killacub.
In yet more proof that the Killabears team is ingenius, these items are available as a bonus reward in Phase 1 staking, a guaranteed reward in Phase 2, OR, you could have gotten them from the limited time merch drop, which I still hate myself to this day for missing.
It was actually pretty brilliant - by ordering merch from the KillaWear drop, you automatically got 2 rare Killatrait tokens for free - which, by the way, are worth more than you spent on the merch itself.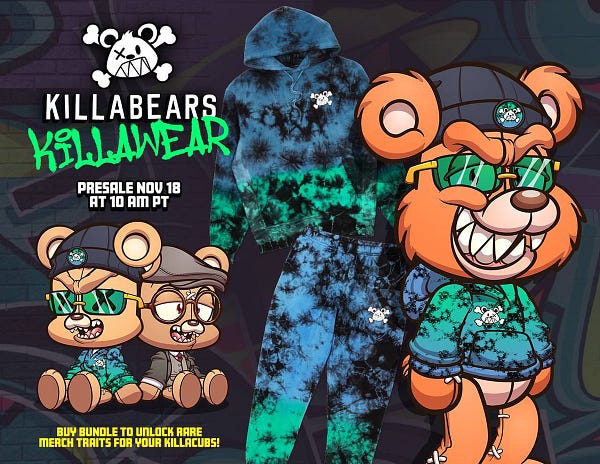 KillaKrystals
Man, I am so thankful the team does such a good job including pertinent information in their OpenSea listings:
These Krystals contain KillaTraits - and some, may contain... other surprises too! Run them through the KillaLabs DECRYSTALIZER (Coming Soon) to reveal the treasure inside.

KillaKrystals are the reward tokens for participants in the Killabears Chapter 2 KillaLabs Staking Experience. Join now and start earning your exclusive rewards!
As you can see, you get one of these KillaKrystals as a reward for going through Staking Phase 2. However, WHICH type of KillaKrystal you get, and what the rewards are, depend on that level of reward tier you were going for that I mentioned in the Killagear section above.
These assets are actually some of my favorite, but they are also fairly simple in terms of the explanation of what they are and how they came to be. I'll let the tweet below do the explaining:
While that covers the assets so far in the Killabear ecosystem, we still haven't really gotten into Killatoys, Killakush, etc. I'll wrap this all up in A Primer on Killabears (Part 4).
That's it for today, I hope you have a great one!